Welcome!
Father John Lasuba ~ Pastor
Christ the King, Byron
Holy Family, Kasson
St. John Baptist de la Salle, Dodge Center
Christ the King Holy Family St. John Baptist de la Salle
202 Fourth St. NW Mantorville Ave 20 2nd St NE
PO Box 1000 PO Box 171 PO Box 310
Byron, MN 55920 Kasson, MN 55944 Dodge Center, MN
(507) 775-6455 (507) 634-7520 (507) 374-6830
Mass Schedule
WEEKLY MASS SCHEDULE
Weekend Mass Schedule:
Saturday, 5:00 PM - St. John Baptist de la Salle
Sunday, 8:30 AM - Holy Family
Sunday, 10:30 AM - Christ the King
Weekday Mass Schedule:
Tuesday, 9:00 AM - Christ the King
Wednesday, 9:00 AM - Holy Family
Thursday, 9:00 AM - St. John Baptist de la Salle
Friday, 9:00 AM - Christ the King
Masses Online
Bishop Quinn offers Mass, via live-stream, at 11:00AM from the Cathedral of the Sacred Heart.
All are welcome to join by clicking - Sunday Mass



Registration for 2022-23 Faith Formation classes is underway. Please contact Kathy at the Faith Formation office and she will help you get registered.
We will be offering a Kindergarten class at both of our sites once again; Mondays at Holy Family and Wednesdays at Christ the King.
The 40th Annual Christ the King Big Cup Fundraiser Tournament will be held once again at the Oaks in Hayfield. Please reserve your calendar for a noon start on Friday, July 29th.
If you would like your name added to the email invite list, please call the parish office.
Vacation Bible School
Monumental: Celebrating God's Greatness
June 27 - July 1
9am - Noon at Christ the King
Cost: $10

VBS is open for ages 3 to grade 5.
Grades 6 and up are invited to volunteer.

*A CD with the VBS songs will be given to each family with paid registration.
Registration:
Forms are located in the Gathering Area of both parishes or by clicking
and printing the form attached
here.
Kwik Trip Cards
Christ the King and Holy Family Community
Support Your Parish! It's Easy!
Kwik Trip Cards are purchased at face value with 5% of your gift card purchase automatically going to your parish. Gift Cards may be used at the pump or in the store. When you use your gift card on non-gas items in the store your parish receives 10% of the purchase.

Kwik Trip Ultimate Car Wash Cards are also available for $36 with FIVE Ultimate Washes on each card. The parish of Christ the King or Holy Family automatically receives $16 of each card purchased! Support your parish while keeping your car clean. It makes a wonderful gift!


Please call the parish office with questions or email [email protected]
Connect With Us on Facebook!
The Church of Christ the King, Byron
https://www.facebook.com/groups/366225650399994/
The Church of the Holy Family, Kasson
https://www.facebook.com/groups/278534982564023/
Job Opportunity
Holy Family & Christ the King
The Parishes of Christ the King, Byron and Holy Family, Kasson are seeking a person for a part time Custodial position. This position is 20-30 hrs per week. Benefits included. Competitive pay.
To view the Job Description for this position please click
Custodial Job Description.
An
application for employment ,
along with your resume,
may be submitted to Jennifer at
[email protected]
Please call the parish office with questions.
Faith, Fire and Fellowship
Please join us each Wednesday at Christ the King for a Holy Hour with our Lord and after, to gather around our new fire pit with friends in faith.
Please bring your own drink. We will have s'mores.
You are welcome to bring another snack if you choose.
6:00 pm Adoration with Exposition in the church.
7:00 pm bonfire (weather permitting).
Come for either or both!
Rain or Shine. *If it rains, we will have fellowship in the hall.
Open to ALL.
Courier

To view the the most recent copy of the Courier please click here.

If you would like a copy of The Courier mailed to your home,
please email Nick Reller in the Diocese of Winona-Rochester at [email protected]
This is My Parish
This is my parish. It is composed of people like me.
We will make it what it is. It will be friendly, if I am.
Its pews will be filled, if I help to fill them.
It will make generous gifts to many causes,
if I am a generous giver.
It will bring other people to its worship and fellowship,
if I bring them.
It will be a church of loyalty and love, of fearlessness and faith,
and a church with a noble spirit, if I,
who make it what it is, am filled with these qualities.
Therefore, with the help of God, I shall dedicate myself
to the task of being all things that I want my church to be.
Download Our Parish App!
Stay connected with all that is happening in our parishes! Receive up to the minute updates via text message if you would like - A wonderful communication tool. For example: in the event of inclement weather affecting parish activities, you may choose to receive a text message notifying you of the change of schedule.
Or Text Parishapp1 to 800-950-9952
Or Text Parishapp2 to 800-950-9952
Weekly Readings
Weekly reading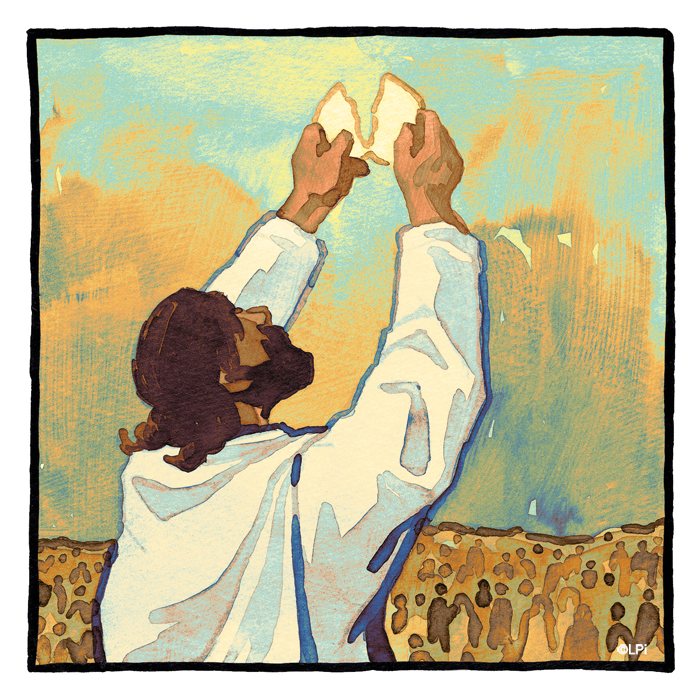 Weekly reading
Readings for the week of June 19, 2022
© Liturgical Publications Inc