Welcome!
Father John Lasuba ~ Pastor
Christ the King, Byron
Holy Family, Kasson
St. John Baptist de la Salle, Dodge Center
Christ the King Holy Family St. John
202 Fourth St. NW 1904 Mantorville Ave 20 2nd St NE
PO Box 1000 PO Box 171 PO Box 310
Byron, MN 55920 Kasson, MN 55944 Dodge Center, MN
(507) 775-6455 (507) 634-7520 (507) 374-6830
Mass Schedule
WEEKLY MASS SCHEDULE
Weekend Mass Schedule:
Saturday, 5:00 PM - St. John Baptist de la Salle
Sunday, 8:30 AM - Holy Family
Sunday, 10:30 AM - Christ the King
Weekday Mass Schedule:
Tuesday, 9:00 AM - Christ the King
Wednesday, 9:00 AM - Holy Family
Thursday, 9:00 AM - St. John Baptist de la Salle
Friday, 9:00 AM - Christ the King



MASSES ONLINE
Mass is offered on-line each Sunday, via live-stream, at 11:00AM from the Cathedral of the Sacred Heart. You may watch live or at anytime. All are welcome to join by clicking - Sunday Mass


This is My Parish
This is my parish. It is composed of people like me.
We will make it what it is. It will be friendly, if I am.
Its pews will be filled, if I help to fill them.
It will make generous gifts to many causes,
if I am a generous giver.
It will bring other people to its worship and fellowship,
if I bring them.
It will be a church of loyalty and love, of fearlessness and faith,
and a church with a noble spirit, if I,
who make it what it is, am filled with these qualities.
Therefore, with the help of God, I shall dedicate myself
to the task of being all things that I want my church to be.
Holy Week Schedule
April 3, Monday
4:00 pm Chrism Mass at St. Augustine, Austin, MN
April 6, Holy Thursday
7:00 pm at Holy Family
April 7, Good Friday
12:00 pm at Holy Family
3:00 pm at St. John Baptist de la Salle
5:30 pm at Christ the King
April 8, Holy Saturday
7:30 pm at Holy Family
April 9, Easter Sunday
7:00 am St. John Baptist de la Salle
8:30 am at Holy Family
10:30 am at Christ the King
As part of the National Eucharistic Revival, the Diocese of Winona-Rochester will be bringing the Traveling Eucharistic Miracles Display to our Diocese. Each deanery will have one host parish and our tri-parish will be hosting the miracle display at Christ the King. We need your help. We would like two people to act as host or hostess each hour the display is open. While more info will be coming about this amazing display, there are sign ups in the Gathering Area for anyone interested in welcoming those across our deanery.
Contact Kathy with any questions.
Kwik Trip - Parish Fundraiser
Email [email protected] or stop in the parish office to purchase.
Thank you for supporting the parishes of Christ the King and Holy Family.
2023 Catholic Ministries Appeal
Your generosity to the Catholic Ministries Appeal from year to year is so greatly appreciated! You are making a difference in our Catholic community through faith-enriching ministries that take place throughout each year. Your gift makes a direct impact in supporting these ministries that are leading people closer to Christ. Thank you for your generosity! To give online, visit www.catholicfsmn.org.
Download Our Parish App!
Stay connected with all that is happening in our parishes!
Receive up to the minute updates via text message if you would like - A wonderful communication tool. For example: in the event of inclement weather affecting parish activities, you may choose to receive a text message notifying you of the change of schedule.
Search for: Lpi parish app


Once your app is downloaded, be sure to click on the 'More' button on the lower right and then 'message settings' to receive notifications from the parish.
Connect With Us on Facebook!
The Church of Christ the King, Byron
https://www.facebook.com/groups/366225650399994/
The Church of the Holy Family, Kasson
https://www.facebook.com/groups/278534982564023/
Christ the King Friday Fish Frys!

Fish Fry Dates: Each Friday – March 3 through March 31
Time: 4:45 PM – 6:45 PM


***NEW this year - Punch Cards!
Available to purchase now. Good for 10 Fish Fry Meals for $150.
Dine In Service – All you can eat!
Adults $18 Children/Senior Citizens $16
Join us inside for the fish fry meal so many have come to know and love. Our volunteers are known for making the best fish fry meal around. You choose baked or fried.
Drive Up Service! $16
The drive-up service is phenomenal at Christ the King Fish Frys. Drive up at the time that works best for you. Our volunteers are looking forward to cooking for you and will be working quickly to serve you the same great meal - drive-up style.
Kids Meal $10
PB & J or Mac n' Cheese
Please note: Pre-Orders are not necessary and will not be taken. The drive-up service is fast, and food is served fresh and hot!
Meals include: Choice of baked fish (3 pieces) OR fried fish (2 pieces), coleslaw, green beans, potatoes, bread/butter, tartar sauce and dessert. Plastic serving utensils included with each order.
Thank you for supporting Christ the King!
Eucharistic Congress June 10, 2023
YOU ARE INVITED!
What: Eucharistic Congress
When: Saturday June 10, 2023
Where: Mankato, MN
This is an amazing opportunity for you to join with thousands of other Catholics to celebrate Mass, listen to speakers, take part in family friendly service projects (like food packing for kids Against Hunger), and to grow in your love for the Eucharist.
Bishop Barron has invited each of us to attend and it promises to be a life changing event!
All registrations for the Eucharistic Congress need to be made online at
www.eucharist.dowr.org
. Please register before March 31 for a discount and guaranteed seats. After this date tickets open up to people waiting to attend from outside the diocese.
Parishioners will be available after Mass March 25-26 to help you register.
There will be nursery care available - see details at
dowr.org
website.
Please let us know if you need help with transportation. We want everyone to be able to attend who wants to go.
Ticket pricing before March 31st:
Adults: $35
Youth (ages 8-17): $15
Kids (ages 0-7): FREE

To view the the most recent copy of the Courier please click here.

If you would like a copy of The Courier mailed to your home,
please email Nick Reller in the Diocese of Winona-Rochester at [email protected]
Weekly Readings
Weekly reading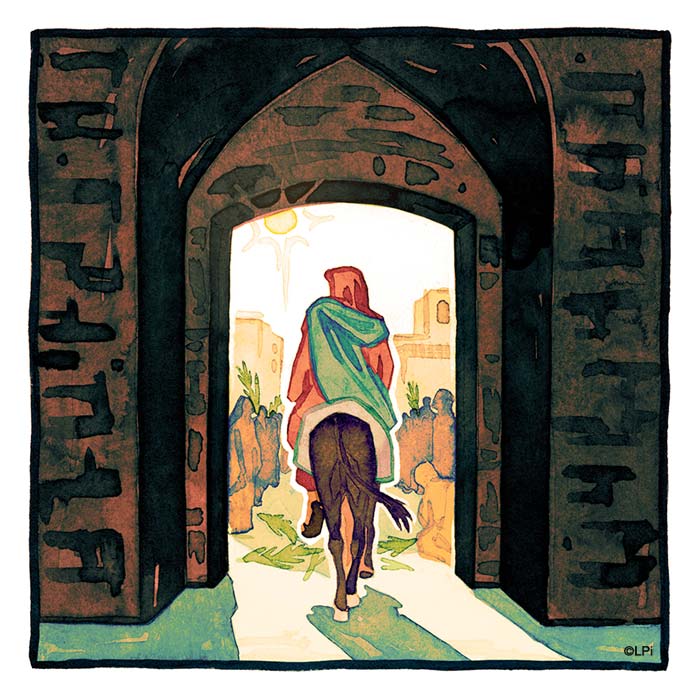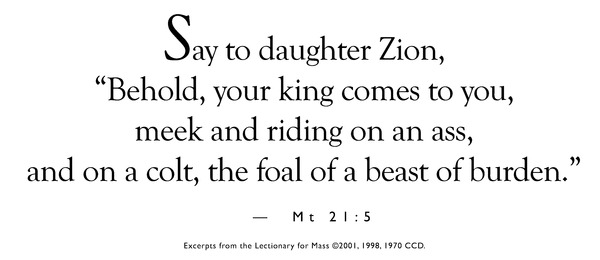 Weekly reading
Readings for the week of April 2, 2023
© Liturgical Publications Inc